---
---
When I saw these perfectly round wooden beads I wanted them immediately.  There is really nothing unusual about them except that I loved them and knew I that was going to go a different direction with them.  I was not going to use them to make earrings, bracelets or necklaces.  At least at first!!
I began by using some recycled flat matte metal circles I had from some old pieces of jewelry that I had ripped apart and glued them to the wood.  I then used my straight ear pins to plug the holes on the sides and glued them in so there were little silver circles on the sides.  You can't see them in the photo.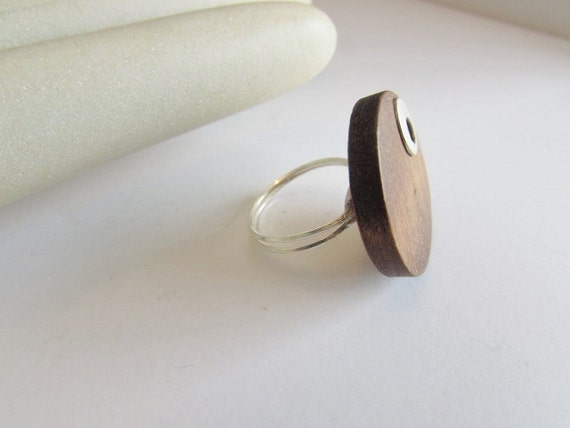 Using silver German square wire,  I fashioned my ring base and used a super sturdy jewelry glue and adhered the silver base to the wood.  I used a tape/mesh and glue to further anchor the metal to the wood.  I can attest to the fact that this ring is quite sturdy, that is if one is careful to keep the ring from being smashed in a door (yes, I did that!).  I usually test a new design for a while before I offer it in my online shop! And when I say test I mean that I am quite clumsy and forgetful, so I will often make a copy of one of my new designs and wear it to test the glue, connections, ease of wear, and response of others and my feel for the design.  Most pass my test, some don't and end up back in the "redesign" pile!!
… the "try again" pile!!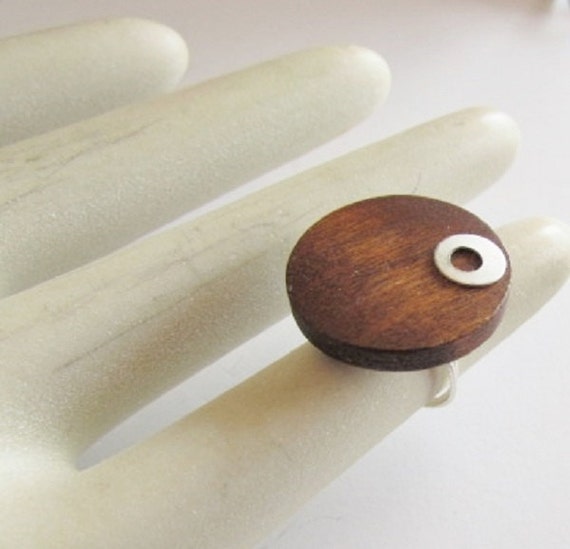 And sometimes I end up really loving a design and wear it and love it to bits. I have already sold some of these rings.  We all know what it is like to sell our jewelry right off our body to people who love a design.  It is humbling and I am always so thankful that someone actually likes my stuff! I am so happy to be doing what I love everyday.
If you click on the photo it will take you directly to the listing in my shop!
I hope you have a wonderful week filled with peace and much creativity!
Ⓒ

ⓗ

ⓔ

ⓡ

ⓘ

ⓔ 

✌